Email Marketing Case Study
Featured Client: The Washington Council on International Trade
The Washington Council on International Trade (WCIT) is a non-profit organization within the Seattle Metropolitan Chamber of Commerce that advocates for federal trade policies that benefit Washington state. Its diverse membership includes small and medium-sized companies, Fortune 500 businesses, and agriculture producers that together represent industries ranging from manufacturing, food, and retail to technology and science. Holstein Studios leads the organization's marketing and communications efforts. Email marketing is a vital component of policy advocacy, member communications, and event sales and fundraising.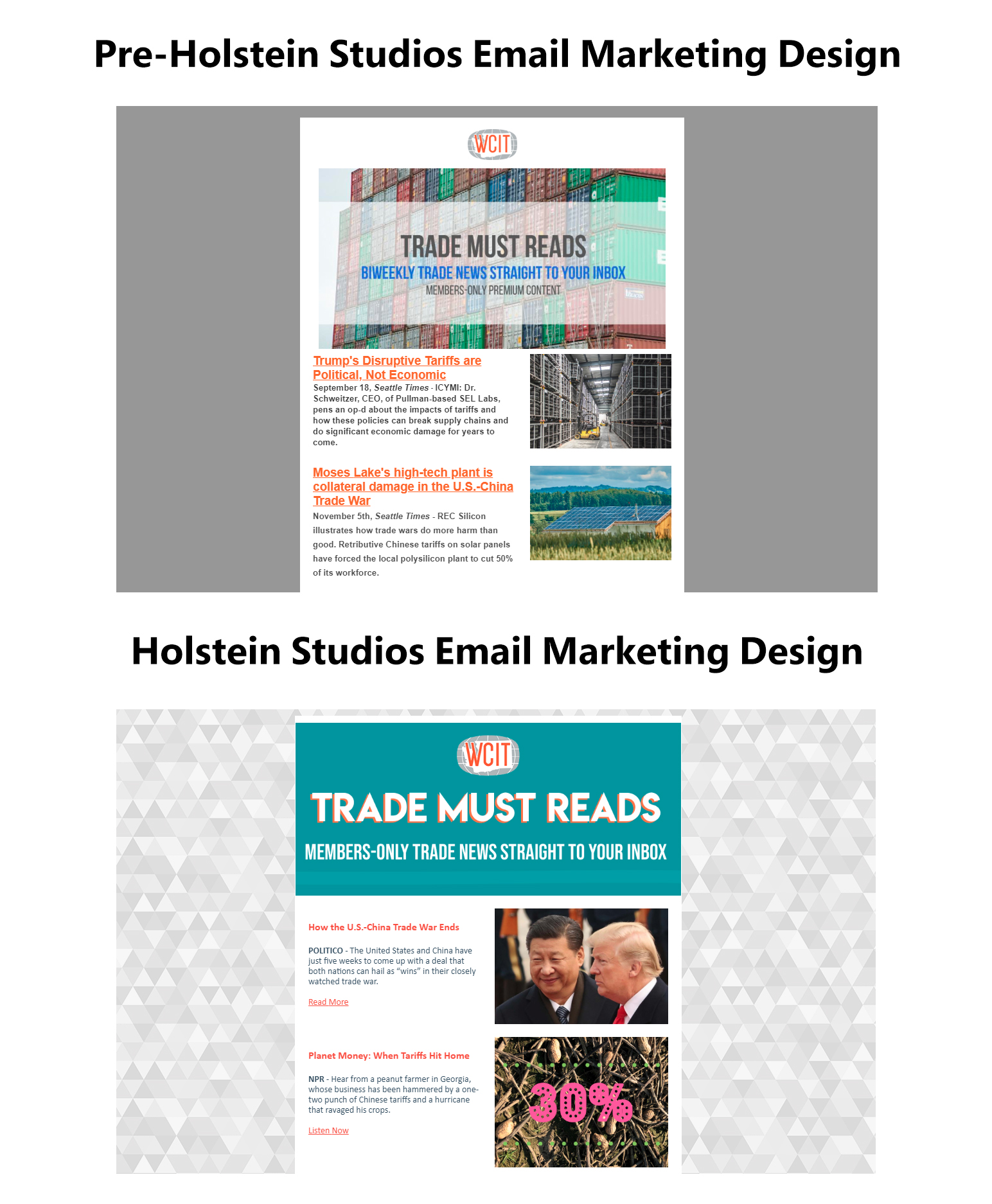 Project Objectives
WCIT's email marketing cadence is robust and serves as the organization's most potent vehicle in reaching its members, industry leaders, and business communities both in Washington state and D.C. Varied campaigns are tied to a number of objectives including event sales, actionable advocacy, and audience education. Regardless of the specific objective, engaging, thumb-stopping subject lines and click-worthy content are noteworthy goals of any campaign.
Average Email Marketing Performance
Process
Tailored Messages and Segmentation - While WCIT communicates to the larger business community on a regular basis, many campaigns speak to nuanced subsets including trade influencers, elected officials, and business leaders from diverse industries. Thoughtful segmentation and tailored messages are effective in engaging and inspiring action from various groups.

Bold Visual Assets - WCIT's stockpile of photography is slim and Holstein Studios relies on curated stock content and loyalty to the organization's visual brand to present clean, recognizable, and current email content.

Engaging Copy - From promoting event sales to policy advocacy, WCIT emails always feature an actionable item. Thoughtful and engaging copy is a vital tool in inspiring audience action.
Results
The first year Holstein Studios lead email marketing, conference sales for WCIT's annual Trade Summit increased by over $4,000.

Holstein Studios' email marketing campaign garnered nearly 200 signatures from the general public in support of one of the organization's policy objectives.

Monthly open and click-through rates increased by 133% and 300% respectively after Holstein Studios' assumed management.