Social Media Marketing Case Study
Featured Client: d.stil
d.stil is a reusable water bottle line that weaves fashion and function together. Developed by Chef'n, a Seattle-based company with more than 30 years of product design experience, each bottle features curated combinations of colors, materials, and finishes. A portion of every d.stil sale is donated to water.org's mission of providing clean water and sanitation to communities across the globe. Holstein Studios served as sole manager, marketing strategist, and content creator for d.stil's social media platforms over the course of its nine-month contract.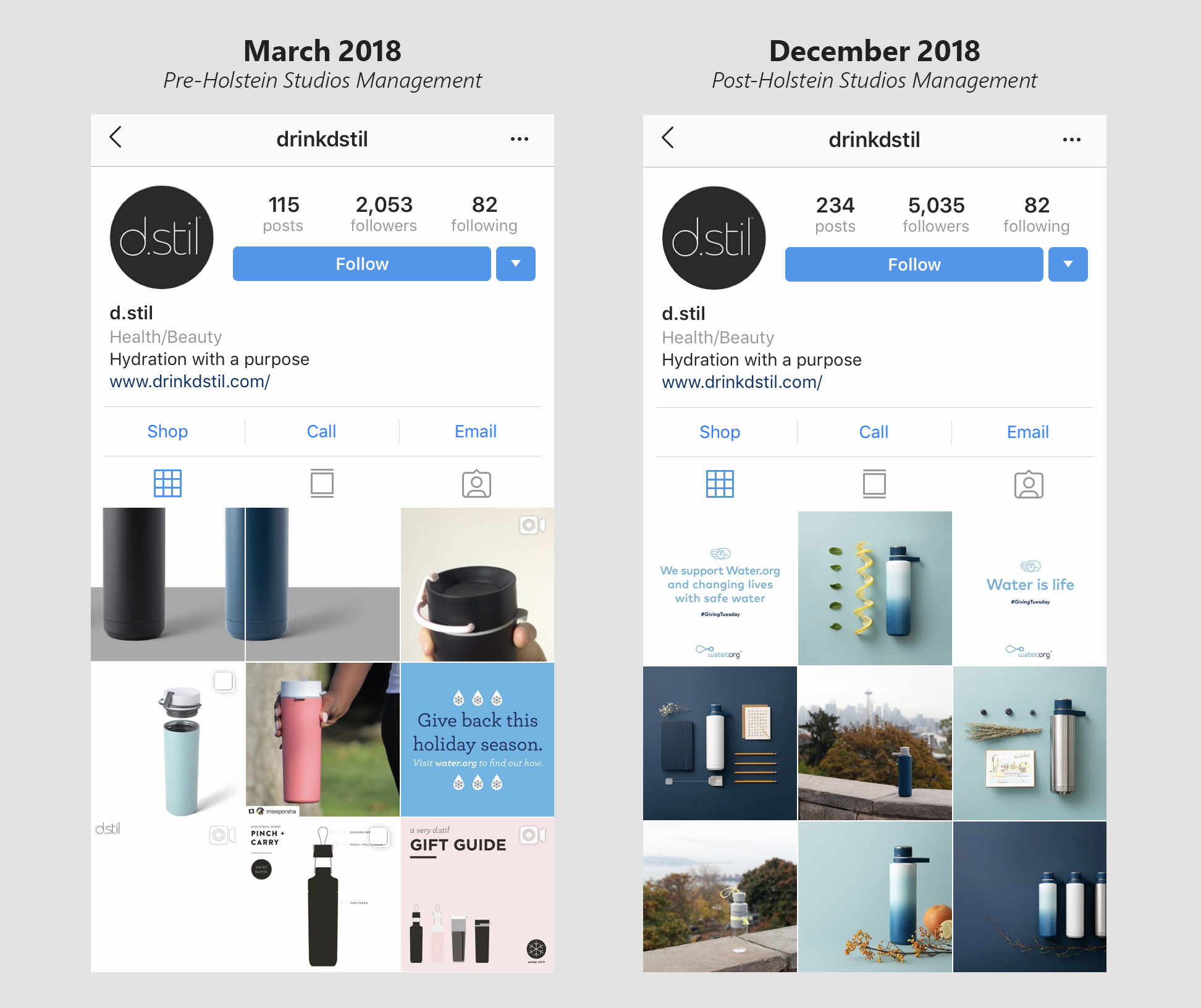 Project Objectives
Bolstered Brand Awareness - The reusable water bottle market is crowded and slated to grow over $3 billion by 2025. d.stil sought to foster a captivating social space to tell its story and share its charitable mission in a clear and engaging format. Based upon d.stil's target audience, Holstein Studios built a large community of enthusiastic and interactive users and consumers excited to learn more about what sets d.stil apart from other brands.

Increased Product Sales - d.stil is an international brand with worldwide sales and robust conversion traffic through social advertising. Holstein Studios created direct pathways to lead shoppers to product landing pages based upon engaging visual content and copy to complement the brand's digital ads.

Responsive Community Management - d.stil receives a high level of engagement from both potential and converted shoppers. Holstein Studios provided speedy, consistent, and brand-reflective service to all inquiries.
Tactics
A Robust Visual Brand - d.stil takes pride in its locally-based design team rooted in Seattle, WA. Holstein Studios' visual content intentionally highlighted the brand's dreamy color pallet, unique functionality, and specs through elegant and approachable photography, short video, stop motion, and interactive Instagram Stories.
Tailored Messaging - Although design aspects of d.stil's products are visually striking, the brand's purposeful mission is not immediately apparent. Holstein Studios' consistently worked to illuminate d.stil's charitable contributions tied to each bottle sale. Additionally, d.stil had a comprehensive understanding of its target customer, and Holstein Studios consistently tailored its written messages to resonate with that audience.

Audience Growth Strategies - Holstein Studios is a strong advocate for organic social growth. To supplement it, Holstein Studios organized influencer marketing, giveaways, and brand collaborations to expose d.stil to new, relevant audiences.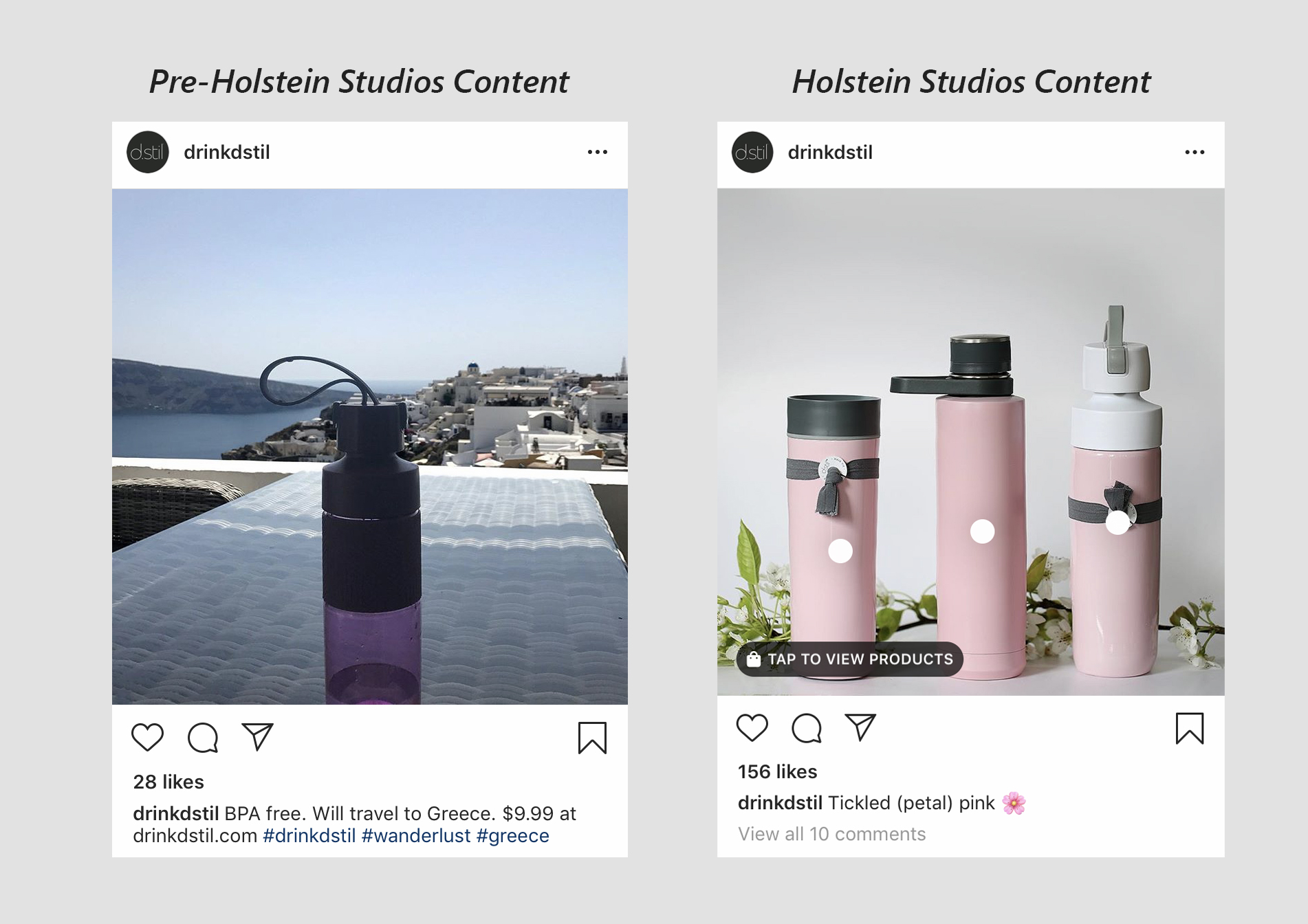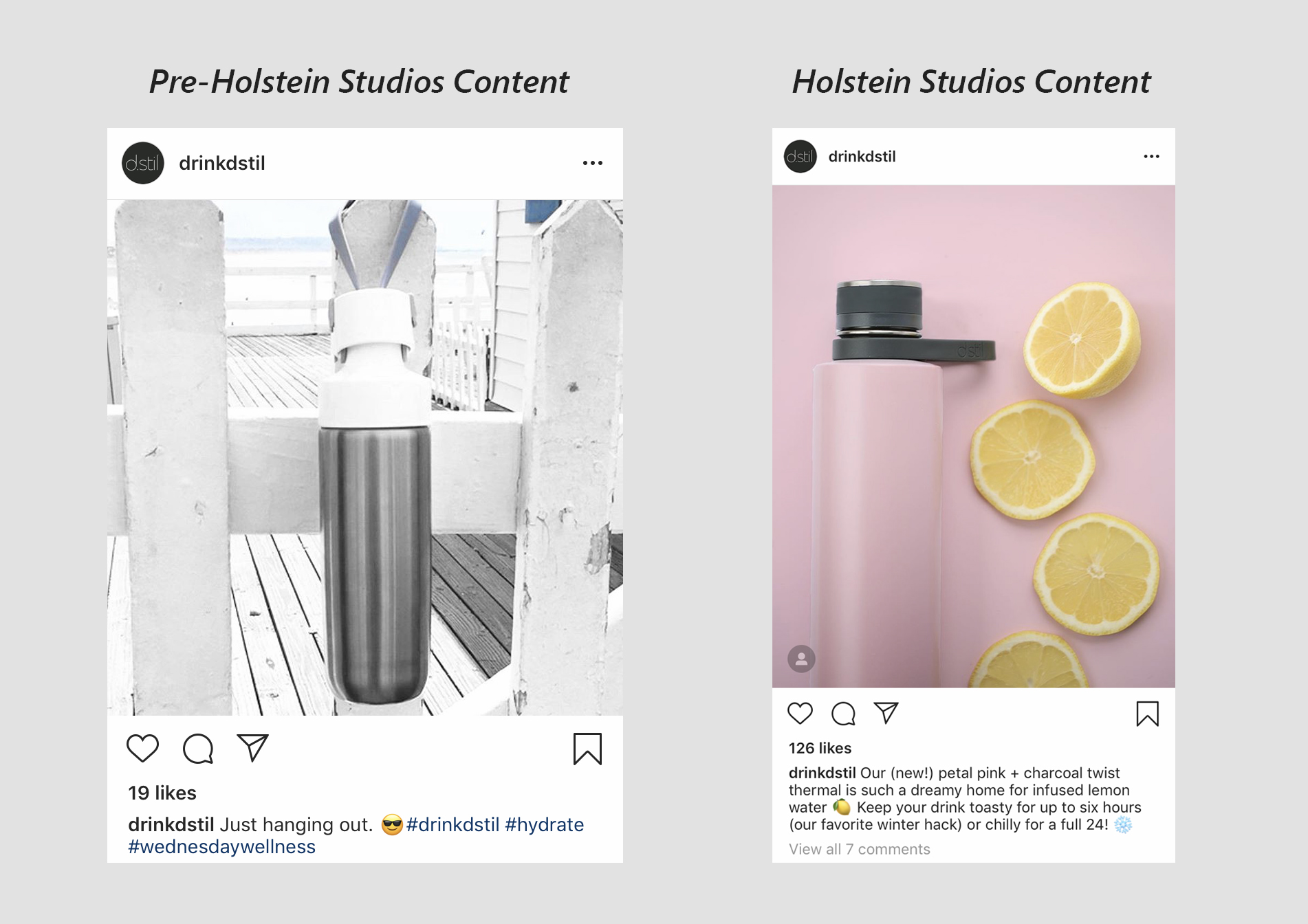 Results
d.stil reported increased sales during Holstein Studios' social media marketing tenure. Additionally, other vital performance indicators exemplified benefits of increased web traffic, community growth, and engagement of potential shoppers.