Social Media Marketing Case Study
Featured Client: Jonboy Caramels
Jonboy Caramels is an artisan confectionery company based in Seattle's Ballard neighborhood. The brand creates small batch caramels using the very best ingredients available and seasonal flavors grown close to home. Holstein Studios has led the beloved local brand's social media marketing since 2016 and creates stunning visual content to engage Jonboy's loyal online community.
Words of Praise
"Holstein Studios has brought a new light to our caramels while keeping with our initial vision. As a result, we have increased our social media presence and have seen a rise in online sales."
-Jason, Jonboy Caramels Co-Founder
Project Objectives
Expanded and Deepened Brand Awareness - Jonboy is a well-known and well-loved brand within the Pacific Northwest. Holstein Studios' brand awareness objectives are two-fold: to engage and activate Seattle-based audiences and to introduce Jonboy's Ballard kitchen to potential customers nationwide.

Seasonal Product Sales - While Jonboy Caramels got its start in local farmers markets (you can still drop by to enjoy a sweet sample!), it now boasts an impressive web presence and capability for online sales. The brand's gift-able brown boxes resonate with online audiences in correlation with specific holidays and seasons. Holstein Studios creates specialized campaigns that promote important seasonal sales.

Engaging Community Management - Jonboy receives engagement both in the form of practical questions from converting and converted shoppers and in the form of praise from its loyal local community. Holstein Studios provides responsive engagement to the community that provides so much support for this small business.
Tactics
Engaging, Facebook-Centered Content - In business for a decade, Jonboy deeply understands its target demographic and has found its most responsive and engaged online audience on Facebook. Although content is shared across platforms (Holstein Studios organically built its Instagram audience from scratch!), visual and copy-written assets are specifically tailored to resonate with Jonboy's Facebook following.

Organic Growth Tactics - With Jonboy's efforts and resources focused in the kitchen, Holstein Studios sought to grow the brand's online community using organic techniques. Giveaways, creative flavor launches, holiday promotions, and engaging behind-the-scenes content have helped Jonboy's social presence bloom without allocating marketing dollars to social ads, influencer marketing, or automated growth programs (Holstein Studios never advocates for the latter!).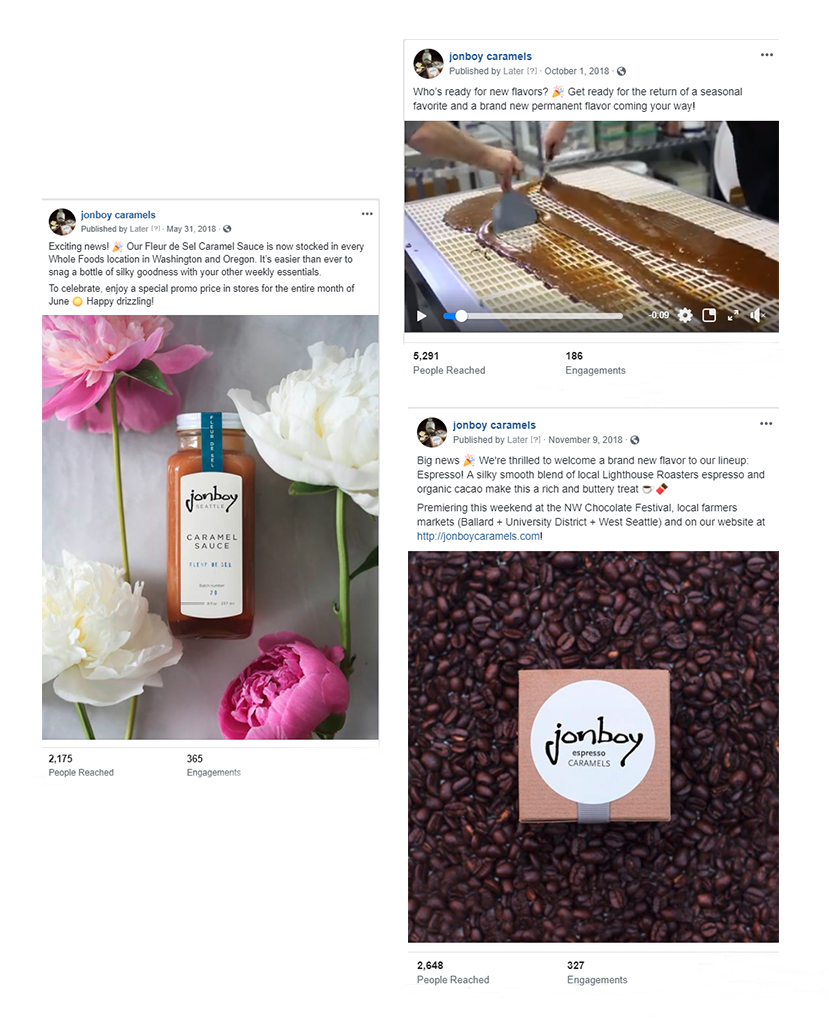 Results
Jonboy reports increased e-commerce sales since Holstein Studios' began social media marketing management and strategy in 2016. Additionally, other vital performance indicators exemplify benefits of increased web traffic, community growth, and engagement of potential shoppers.